Water Footprint: Applications of LCA and Water Management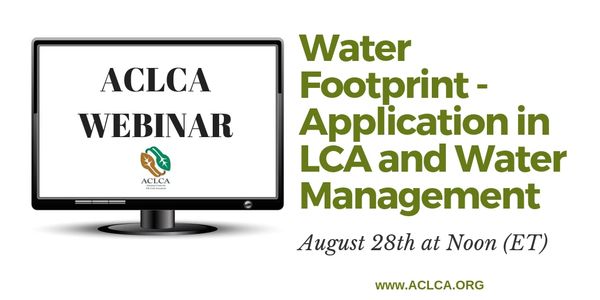 Water Footprint: Applications of LCA and Water Management
ALCA webinar, Water Footprint: Applications of LCA and Water Management
Date: August 28th, 2019
Time: Noon-1 PM
Webinar purpose: to introduce the state of the art in how water footprinting has been integrated into LCA, present challenges as well as key research questions and methods moving forward
Speakers:
§  May Wu, Ph.D. Principal Environmental System Analyst, Argonne National Laboratory.
§  Arjen Y. Hoekstra, Ph.D. Professor in Water Management at the University of Twente, the Netherlands, and Visiting Professor at the Lee Kuan Yew School of Public Policy at the National University of Singapore.
§  Stephan Pfister, Ph.D. Senior research associate at ETH Zurich in the Ecological Systems Design group.
Moderator:
§  Sarah M. Jordaan, Ph.D. Assistant Professor, School of Advanced International Studies, Johns Hopkins University